Apologies for the radio silence here the past period, it has been absolutely insane the last few weeks but I have a good excuse. 🙂
So one of the projects I've been working on….the APAC Digital Brand Index!
Edelman, together with Brandtology (where I work) have just released a APAC Digital Brand Index spanning across the major markets in the region. To quote John, "8 markets, 800,000 posts, 233 tech brands…" and then some <!>
Please show the team some love if you can because while this may come under the umbrella project of the DBI, multi-market projects really could be mini projects on their own (as is often the case). A full story can be found on the Edelman & Brandtology main sites. (This is where you get the media goodies like fact sheets & media releases, so I suggest you check it out!) and more on John's site here.
There's been some nice coverage so far, from online sites in Malaysia, India, China (post in chinese), more India, Australia, to publications like Marketing-interactive.com. I've heard the team from China had some great respones from the media session too!
And of course, there are scribd documents, youtube videos all over ( you don't have to look too hard.)
It is pretty interesting to watch how the news grows. The Google bots are clearly doing their job. Early Friday morning, a Google search returned some 3-4 relevant hits top of page, but that has changed significantly now for any of the major search terms one might use to hunt this down. Search also turns up hits from Facebook pages pretty well too.
Across other spaces, the word is alive on Twitter…. it's nice to see the multi lingual comments coming in.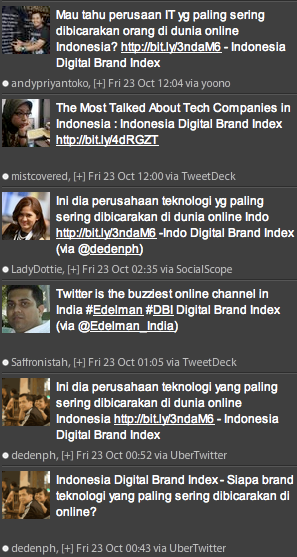 I think some of the main findings are already nicely summarized in the various fact sheets on the Edelman site, but of course there are a whole lot more that the data set could provide. Off the top of my head:
Online behavioural patterns of APAC netizens… ( 8 countries so far, 2 more coming out). This is for the psychology buff inside me somewhere. I'd really like to see if there are patterns of posting. Weekends are generally less buzzy (people apparently don't post when they're not at work?), with conversations happening mostly during weekdays. I can see all those questions about productivity popping up already!
Behavioural patterns in different channels – Twitter, unsurprisingly ranks pretty highly in terms of activity and mentions of Brands in the DBI. Part of me thinks that this is largely due to the ease and low effort needed to do an update (aka people are lazy. Easier to post on Twitter than write a full blog post).
If you're holding a smartphone, armed with the great Twitter applications and a mobile data plan, it's easy to make a habit out of Twitter. Instead of calling up our best friend to rant about the lousy brand experience you'd just had, the whole world is now your audience. Clearly, we are seeing signs of that happening, given the number of rants that seem to originate from Twitter.
Virality of a Brand – is a certain brand name confined within a select few channels? and why? What's the difference between a brand that enjoys a lot of buzz within a limited number of channels, as compared to one that is widely disscussed across multiple platforms, but in less depth.
As a brand, which would you rather be and why? Is this what people call "reach"?
Does mere reach ( my brand is discussed by 100000 people but each of them only talks about me once ) mean more than longevity in conversation ( my brand is discussed continually by 100 people, across a period of months )?
Between a brand and an iconic product – The Singapore data shows Singtel topping the list of mentions. This is probably correlated somewhat with the fact that they still (at this moment in time anyway) have a monopoly on the iphone market. It's interesting that probably Apple is not mentioned as a brand itself much, but it's hugely successful line of products – the iPhone, iMac, Macbook, MBPs, MacOS etc would probably generate a huge amount of conversations. Maybe Apple is an aspirational brand, but i personally hate the iPhone because I can't type on it (yes, seriously). How does brand loyalty feature then, and does it even matter anymore? Would you place product function over the brand, or do you like to convince yourself that this is so?
Influencers – What is the difference between an online influencer who owns a blog, and say, someone who's really active on Twitter? In a forum? In which forum? And how would you qualify this? Microblogging and forums clearly win hands down in terms of activity, as compared to blogs (Again, back to the fact that blogging is hard work!).
Endless questions of why, how, etc and I could really go on and on…
But really, if you're a slice and dice data wizard, it would be cool to find out what else I could have missed! Any major angles?
If you're a practioner in Communications/PR/Marketing, it would be great to hear what matters in your daily projects, what are the kinds of metrics and measurements that are important to you and why? How would any of these feature in your social media/digital strategies?
PM me or drop a comment here! I'm decidedly curious. 🙂

Tags: digitalbrandindex, brandtology, edelman, APAC, DBI, measurement, analytics, research, asiapacific,